– HONG KONG –
In April, we relocated our Hong Kong office to Wan Chai. The new state-of-the art premises incorporates high-tech offices, meeting rooms, and a spacious workspace to demonstrate the ever-expanding range of existing and future SD services. The contemporary space reflects the innovative nature of the SD culture and doubles-up as a venue for holding company events, customer training, and workshops.
The relocation to a larger office space is a response to SD's significant growth in the region, which is being driven by the development of the Asia Pacific business aviation market and the growth of the Chinese business aviation sector. The office is manned by the existing seven-strong SD team, but it is anticipated the team will more than double over the next three years as new sales, technical, and support roles are filled.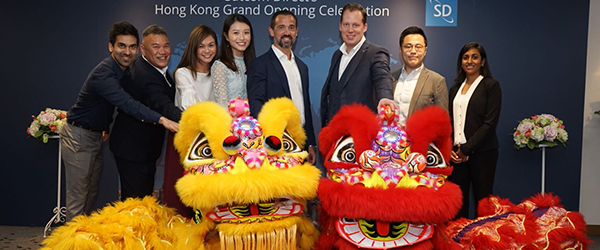 – BASEL –
We also strengthened our European presence with the opening of our fourth office in the region. Located in Basel, Switzerland the office is situated at EuroAirport Basel Mulhouse Freiburg, which is one of Switzerland's busiest executive aviation centers and is in close proximity to a number of Europe's leading completion and Maintenance, Repair, and Overhaul (MRO) centers. This new location positions SD at the heart of Europe's satcom installation business and supports the increasing demand for the installation of Jet ConneX.
To mark the opening of the Basel office, we teamed up with several of our partners to host SD's first International Connecting with Customers (CwC) Workshop in Europe. The event addressed the latest developments in business aviation technology, including updates from Gulfstream, Inmarsat, and Viasat. There were several great workshop discussions, including best practices for cyber security, testing and comparison of cabin networking routers, latest network services, and upgrade options.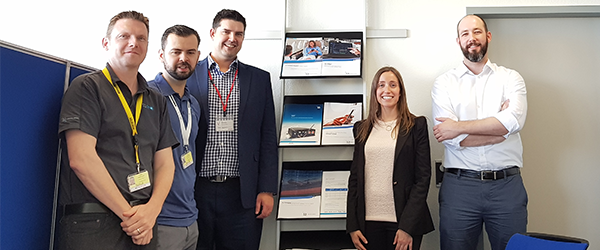 – SD DATA CENTER –
To meet the increasing demand for data security, we are expanding the SD Data Center by 5,000 square feet, providing space for more than 120 new cabinets.
The SD Data Center was built to protect and provide redundant access to our clients' critical data. It's part of a global network built to meet our customers' needs for a secure, custom-engineered solution designed to fit their business requirements.
The experts at SD Data Center partner with our customers to understand their business objectives and deliver a suite of services tailored for them. We specialize in virtualization and high-availability offerings, network design and support, and cloud capabilities proven to increase productivity and reduce IT costs.
Construction of the SD Data Center expansion started this summer and is scheduled to end in December. Look for news of the SD Data Center open house early 2019.